Chrismas Parties
The reservations for Christmas and new Year holidays are opened!
The restaurant Les Grands Buffets proposes a special menu included prestigious wines for December 24th evening, December 25th lunch, December 31st New year evening evening and January 1st 2019 for the lunch !
You can book by phone, please call the 00334 68 42 20 01, from 10 am to 10 pm.
We will call you back between 5 pm and 9 pm to take your reservation.
The bookings limited, we recommend you to reserve as soon as possible!
There is no special animation for the evening of December 31st.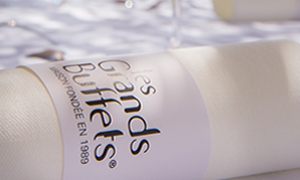 For children aged 6 to 10 years : 32,40 €
For children under 5 years * the menu is free!
Coca-Cola and Ice tea unlimited
(*) accompanied by an adult who has ordered a meal, and presenting the child's ID Card
Aperitif - Mas de Daumas-Gassac
Sparkling Rosé wine 2017 (mauzac, chenin, chardonnay)
Worldcup rosé wine's Silver medal 
White - Domaine Gérard Bertrand
Cigalus 2017 (chardonnay, viognier, sauvignon)
Rank 91/100 to Robert Parker'guide
Red - Embres & Castelmaure
N° 3 (carignan, syrah, grenache)
AOP Corbières
Sweet wine - Carthagène Distillerie d'Argeliers
Carthagène, traditional liquor wine
Still & gaz water
Coffee