The Festive Season
We are glad to inform you that the reservations for Christmas and new Year holidays are opened for :
The Great Christmas Dinner : tuesday, 24th, december
The Great Christmas Lunch : wednesday, 25th, december
The Great New Year's Eve Dinner : tuesday, 31st, december FULL
The Great New Year's Day Lunch : wednesday, 1st, january
The restaurant Les Grands Buffets proposes a special menu included champagne & prestigious wines with Royal "mise-en-bouche" and an all-you-can-eat buffet at 85€ for adults, 42€ for children between 6 and 10 years old, and this is free for kids under 6 years old.
Booking are exclusively by phone at +33 468 422 001 between 10am and 10pm. Our hostesses will call you back between 5pm and 9pm to confirm your reservation. The total payment of the table will be requested at the time of booking. You will have the possibility to enjoy until the restaurant closes, there will be only one service.
Informations : We are aware of a very large number of requests for the Christmas season right from the start. Our Hostesses make every effort to call back customers who have contacted us throughout the day, in the order in which telephone messages are received.
Thank you for your patience and understanding.
We wish you to spend a happy moment at Le Restaurant Les Grands Buffets !
The bookings limited, we recommend you to reserve as soon as possible. There is no special animation for the evening of December 31st.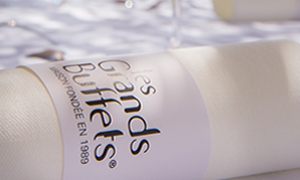 Children from 6 to 10 years old : 42€
Kids less than 5 years old : free*
Fruits Cocktail, "home made" limonade, Coca-Cola, Ice Tea and water à Discrétion

ROYAL STARTERS AND BUFFETS A DISCRÉTION
PRESTIGIOUS DRINKS
- The four royal starters served at the table :
Light consommé with Périgord truffle
Saint Jacques with caviar
Verrine from the sea and Oyster Jelly
Fresh porcini bite in carpaccio

- To continue, with the buffets à Discrétion :
The great classics of the traditional french cuisine, royal seafood tray with lobsters cascade, 9 duck foie gras recipes, smoked salmon, American lobster, Great choice of meat at the brooch and canailles dishes.

- The biggest cheese tray in a restaurant in the world :
A collection of 111 matured cheeses

- The sweet note with 50 "home made" desserts :
Assortiment of 6 Christmas bûches and iced desserts Desserts
Confectionery and various festive entremets,
The famous buckling cart of the Negresco with Suzette pancakes, bananas and Norwegian omelets "flambés".
Champagne during the meal
Mumm - Cordon rouge - Brut
Prestigious Wines for Cheese Time
Gérard Bertrand - Cigalus blanc - AOP Corbières
ou Château de Villemajou – Grand Vin Rouge – AOP Corbières-Boutenac
Dessert Wine to drink with the sweets
Gérard Bertrand - Légende Vintage 1989 – Maury
Plain & Sparkling water
Coffee or tea à Discrétion
*limited at 1 children for 1 adult who ordered a menu
Net prices including service – no animation, no cotillion