La Carthagène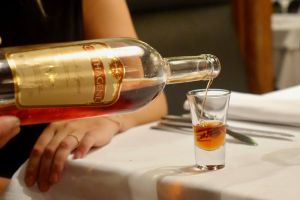 Beautiful discovery ...
Traditional liqueur wine, the Cartagena comes from a harmonious marriage of Languedoc wine brandy and grape must (Grenache, Bourboulenc, Mourvèdre, Syrah) from which it derives its aromas. Golden, dewy, it will pleasantly surprise the neophytes, to discover ...
In order to bring back to the taste of the day the tradition of the Wine of Dessert, Les Grands Buffets offer you the tasting of the Cartagena of the Distillerie d'Argeliers at the end of the meal.